There's no road here, just a narrow track.
We pass by a couple donkeys and the flies that are their constant companions follow us for a while.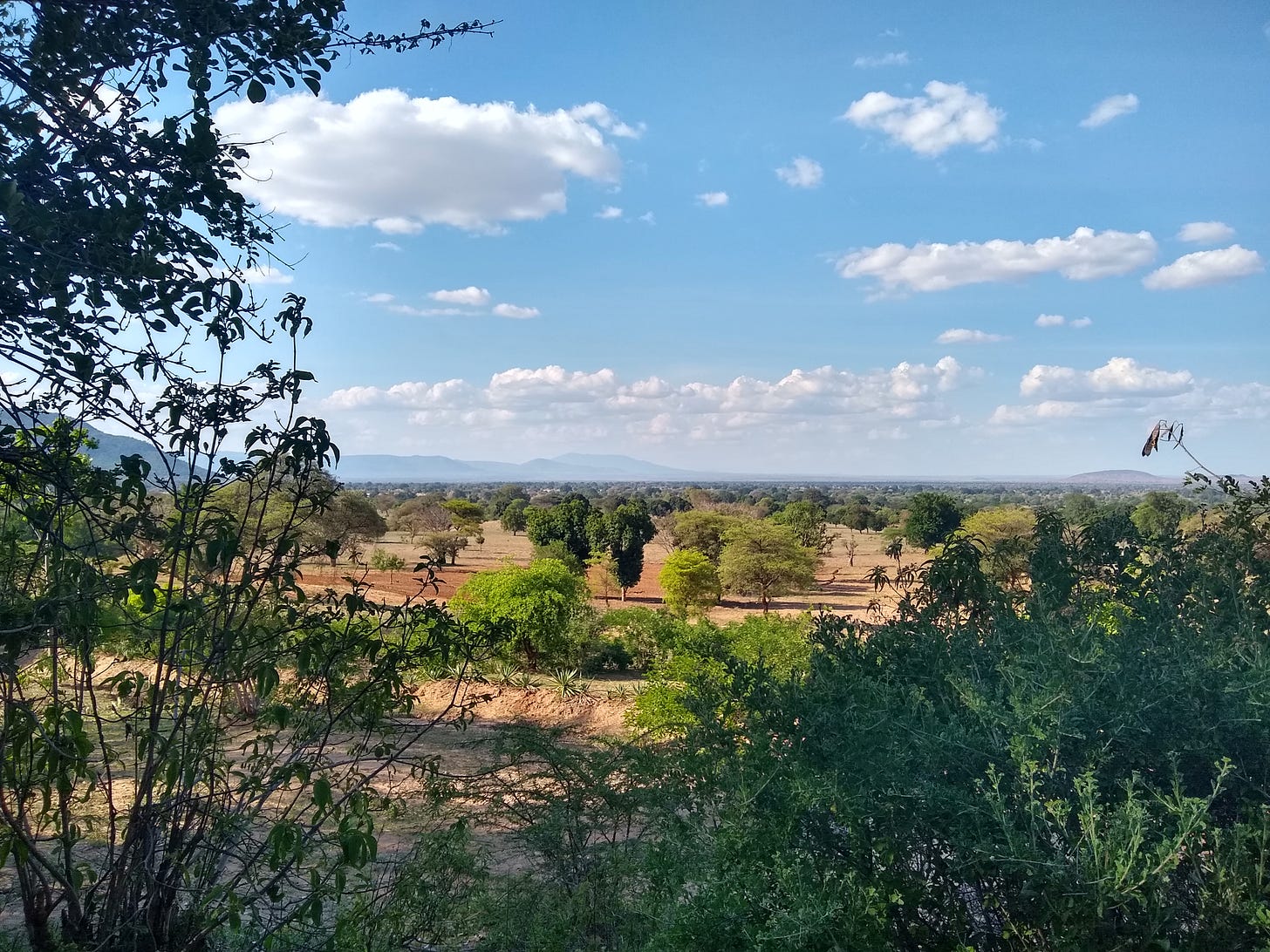 It's hilly country.
We pass by small farms, little villages of small brick houses.
Children wave, "jumbo mzungu!" they call out.
It's slow going, I try to wave the flies away but you can't move too much when you're riding on the back of a motorcycle.
A couple weeks earlier, on Pemba, I took a motorcycle taxi for the first time, holding on tightly with both hands.
I'm more relaxed now, I don't hold on anymore. I sit there, perched, trying to move with the bike, my hat in one hand so it doesn't blow away.
Not entirely relaxed though, every so often we take the highway, it's a paved road, but a steep one, of s-bends and vehicles travelling at very different speeds, a two road where there's not that much traffic and people in land rovers pass busses and trucks in the oncoming lane.
In Tanzania, they call mototaxis pikipikis after the sound of the motor. Onomatopoeia seems to be popular in Swahili. In Zanzibar, they called the railway the bububu. Elsewhere in East Africa, mototaxis are known as bodabodas, also after the sound of the motor. Guess they got slightly bigger models. Ironically, the one form of transportation with an onomatopoeic name in English, the ubiquitous tuktuk, doesn't have an onomatopoeic name in Tanzanian Swahili, they're bajajs, named for one of the main manufacturers.
On the descents the driver kills the engine and we coast down. There's something about that that scares me.
We drive through a town where school children are reading books outside, where two policemen in plastic chairs guard a government building of some sort.
I want to get a motorcycle, I am tired of riding on the back and the men here make riding look easy.
They gave me the choice, 4x4 or motorcycle. I didn't even stop to think, motorcycle of course.
I'm glad I did, not even a 4x4 could take some of these narrow paths.
It's my second day visiting the rock paintings of Kondoa Inragi, in northwestern Tanzania.
There is a routine of sorts, we drive for 45 minutes or so, then walk for around 15 minutes until we come to the cave where the paintings are.
There are two styles of rock art in the region.
The most famous is that of the "Bushmen," hunter gather people who are, most likely, the ancestors of today's Sandawe and or Hadza people.
Their paintings are made with red ochre, perhaps mixed with blood. They painted with brushes.
The paintings depict animals – sometimes in stunning detail, sometimes just the outlines – and people. Though the people are always cruder than the animals.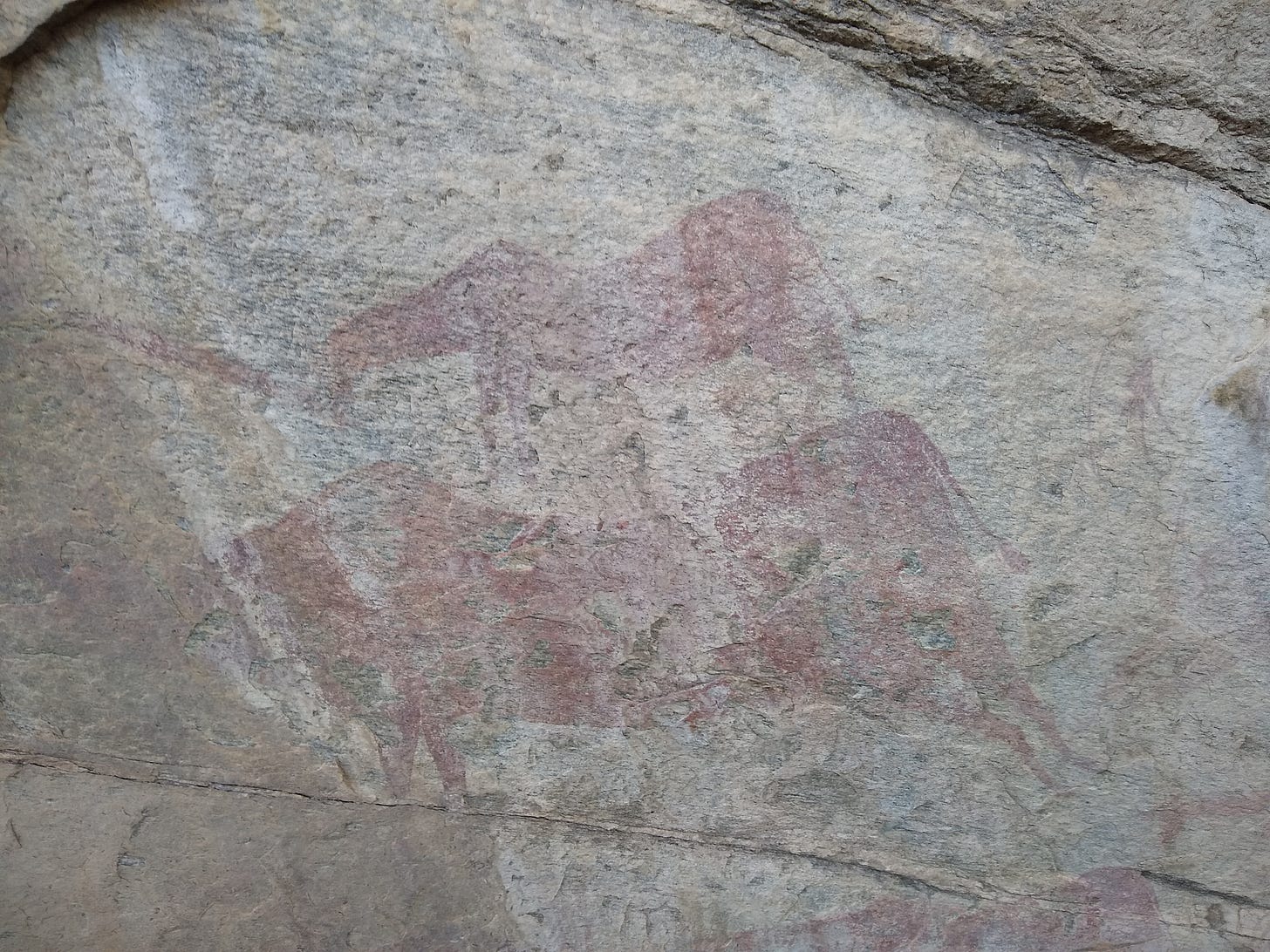 This is the oldest art here, some of these paintings may be up to 40,000 years old. It's also the newest, Sandawe men were still making similar paintings until the early 20th century.
But there is another style of art here too.
White paintings, most likely made by Bantu people who arrived here some 2,000 years ago.
They made their paintings with their fingers. There are few animals depicted here, they drew shapes, geometric patterns, people with long arms, a man with six fingers.
The Bantu were farmers. There another possibility, perhaps these paintings were made by pastoralists, people who lived like today's Masai and related groups.
One of the things that makes all of the paintings here so enigmatic is that there has been little research done since the 1950s. Legendary anthropologists Mary and Louis Leakey, who were working in the nearby Olduvai Gorge, studying our earliest ancestors, did some research here in the 1930s, when the site was first being studied.
Of course, colonialism, conquest and Christianity have worked to erase the stories behind these paintings.
It reminds me of something. 3,000 kilometres to the south, in the modern countries of South Africa, Lesotho and eSwatini, people also made rock art.
The rock art of the San – or Bushmen, as they were also called – is red, made of ochre and eland blood, and painted with a brush.
It depicts people and animals – and, sometimes, people turning into animals.
Like the Sandawe and Hadza languages, San languages have click consonants. The San were also hunter gatherers.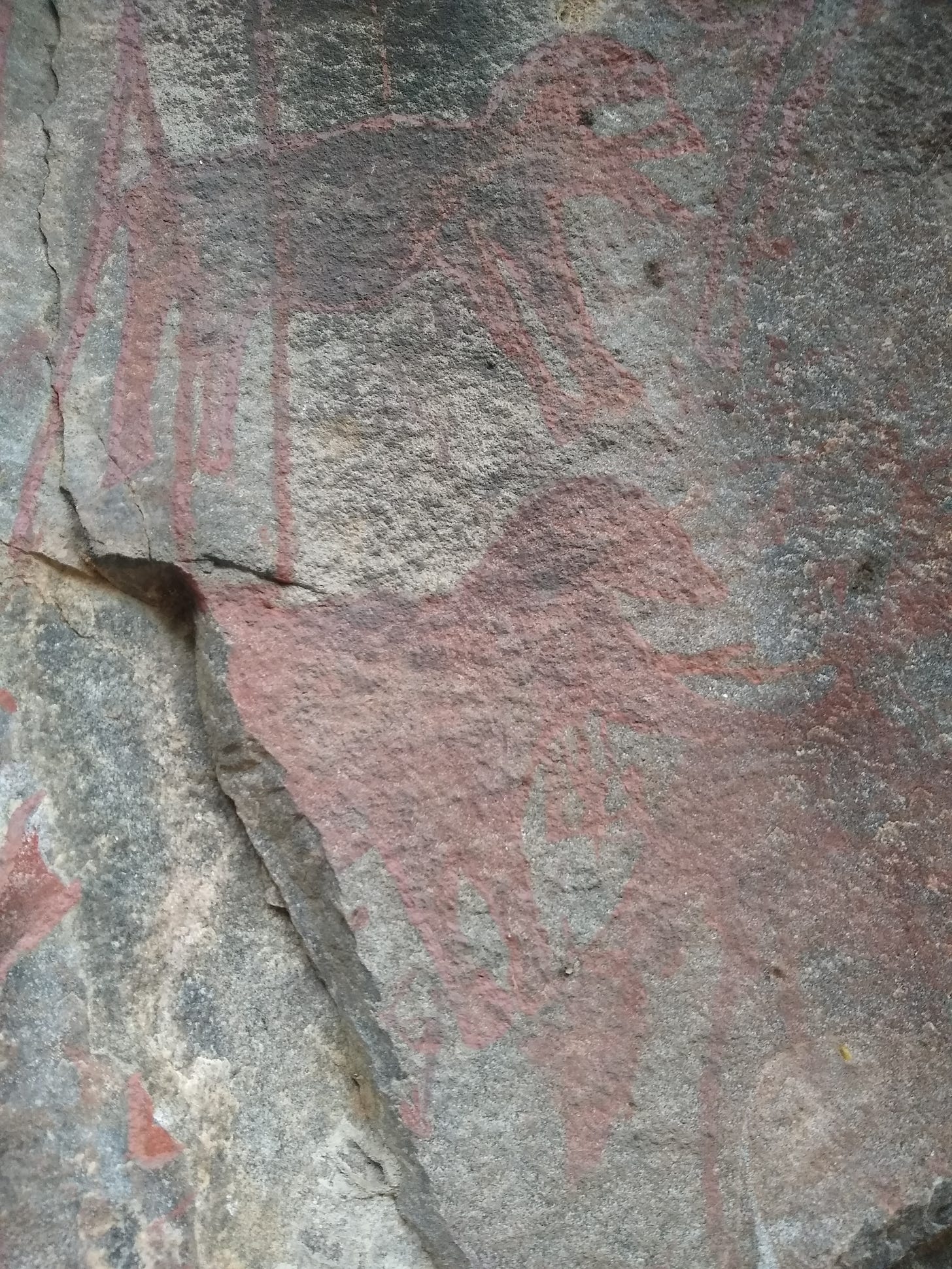 The rock art of the San was deeply related to a dance that involves entering a trance state, where people could turn into animals, enter the spirit world and bring the rain spirits into the physical world.
In some places, where San people became assimilated into farming and pastoralist communities, people of San descent continued to be rainmakers.
Like the San rock art, the rock art of the Sandawe and Hadza are believed to be linked to a trance dance, called Simbo, where dancers communicated with the spirit world.
Genetic studies, however, have shown that these peoples have been separated from each other for around 70,000 years. I can't help but wonder whether the rock painting traditions go back that far.
Things are old in this part of the world. Near a rock art site in eSwantini, is the world's oldest mine, worked for more than 40,000 years.
The San used it for ochre. The Bantu used it for iron, as did the people who came later. It closed in 2014, though there has been talk of reopening it.
There is Bantu rock art in South Africa too, a tradition that lasted long enough that, in at least one place, there's a rock painting of train and men on horseback with guns.
Thanks for reading Dispatches from Gauteng, you'll get another dispatch in two weeks.